Spark Your Night With Sangria in Six Ingredients or Less!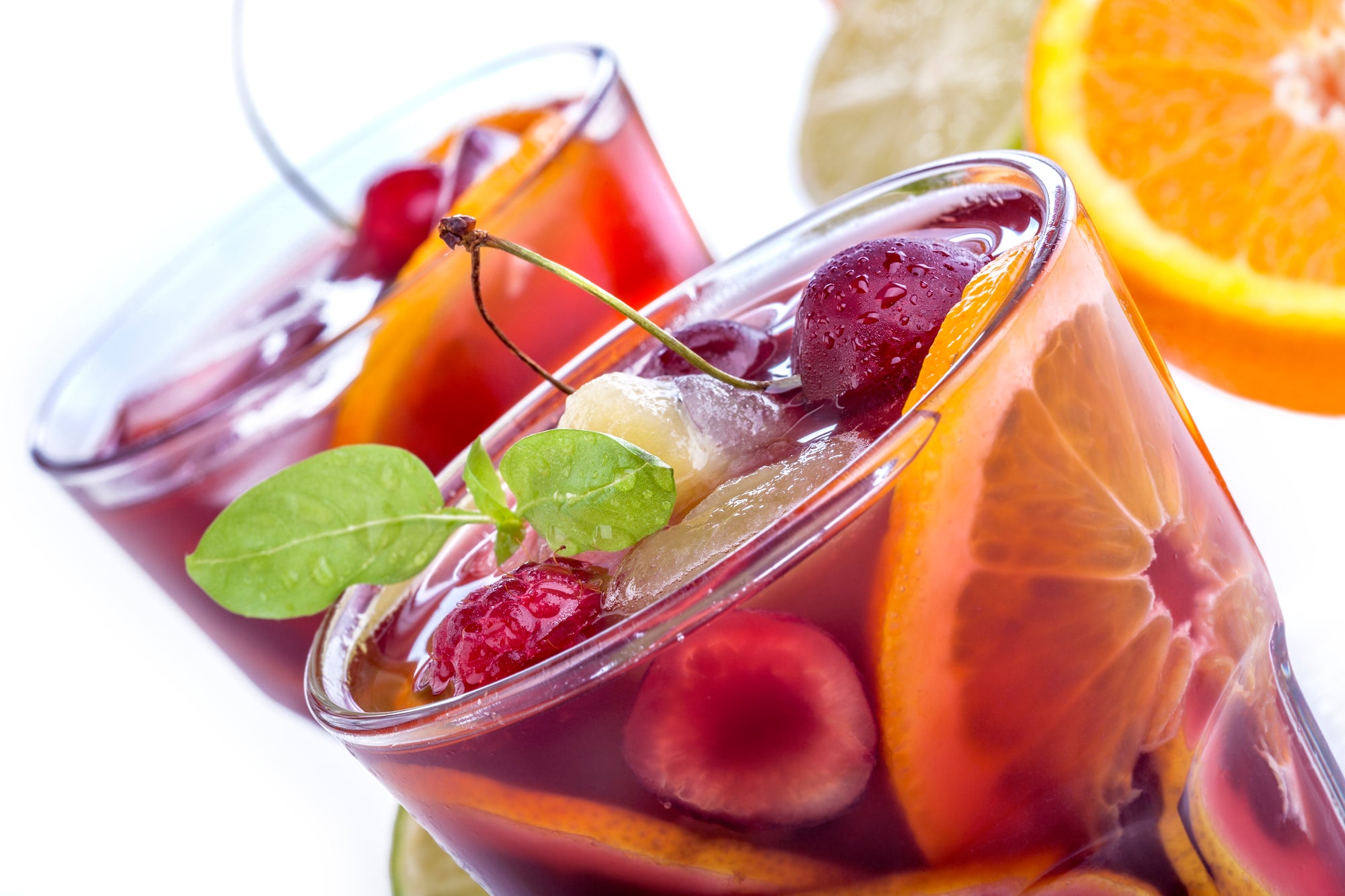 Let's talk about sangria, that fruit-infused wine drink from Spain or Portugal. You may have everything you need on hand. So, why not add it to your cocktail repertoire! 
Ingredient #1 The Wine
Traditionalists will tell you that the wine must be red and must have a strong flavor. That's because you want something that can hold its own even when mixed with liquor and other juices. The thriftiest among us will say that you can essentially use any wine in your cupboard. However, a good sangria starts with a really good red wine.  
Ingredient #2 The Fruit
You could make a sangria using wine, citrus fruit and berries and nothing else! If you cut the rounds of oranges or limes into fourths, you will find it easy to crush them with a wooden stirring spoon right there in the pitcher. In addition to oranges and limes, you can use an apple, pear, plum or other sweet tart fruit.  Cherries are a nice substitute for the berries, but these are mashed along with the other fruits rather than crushed like the berries.
You will want to reserve some of your fruit to float on top or as garnish in individual glasses.  As for portions, you need about three pieces of fruit and a cup of crushed fresh or frozen berries per bottle of wine.  
Ingredient #3  Juice Mixers 
Next you may want orange juice, cranberry juice or real lemonade. If you are using lots of real fruit, you can cut back or eliminate juice altogether. Otherwise, consider using about ½ cup of juice per bottle of wine. Then add more gradually to adjust the taste as needed. If adding concentrated lemon or lime juice for flavor, be conservative. A teaspoon or two will be more than enough.
Some recipes recommend adding ¼ to ¾ cup of sugar or brown sugar diluted in warm water.  It is probably best to combine all ingredients before adding any extra sweetener. Often the mixture is sweet enough without it, and the extra water won't do anything but dilute the fruity taste.
Ingredient #4:  The Bubbles
For some, sangria must be bubbly, but you can choose to skip this step.  Plain sparkling water will add bubbles without adding more sugar.  However, you want to limit its use to six ounces per bottle of wine, since it will have the effect of diluting the taste you are striving for.  
Some recipes recommend a can (12 ounces) of sodas like 7-Up or Sprite per bottle of wine. This adds more citrus flavor and sugar.  If you don't have much citrus fruit for your sangria, this can substitute for some of it.
Ingredient #5  Brandy and Other Liquors
Wine can stand alone in sangria, but many people add brandy. You should use about 6 ounces of brandy per bottle of wine. For the best taste, infuse the brandy with your fruit for two hours in the refrigerator before adding the wine and any other liquid ingredients.  
With stronger liquors, such as vodka or rum, you want to add only ½ a cup per bottle of wine. You can also add a ¼ cup of triple sec with the brandy or other liquor.  By the way, you can substitute white wine for the red, but take care to use a wine with a strong enough taste, or it will be overwhelmed by the fruit and liquor.
Ingredient #6:  Ice 
North Americans consider sangria to be an iced drink, and it certainly can be, but ice isn't necessary if the ingredients are already chilled. You can make a frozen sangria if you mix the wine with frozen juice concentrates such as orange, lemon, and lime. You may want to stir in frozen fruit, too.
Now that you know what you need, check your cupboards, order a few bottles of good red wine, and try your hand at mixing your own sangria. It's sure to be a favorite at your next get-together.